I am always so pleasantly surprised at the adorable clothes on Yumetenbo! The clothes from 109 are gorgeous and original and probably worth the cost but it's nice to see prices closer to H&M or Forever21 clothes. Maybe I'm just a total cheap skate!
Yumetenbo
is, for anyone who may not know, inexpensive but fashionable Japanese clothes. The clothes aren't knock-offs, per se, but they more like Wet Seal or other "fast fashion" stores you'd find in a typical American shopping mall. I've purchased their clothes through the Rakuten store, DreamV.
Here are some examples of cute clothes I just found (Sorry if you don't like pink & black! Haha ) If you click on the image, the link should take you to the Rakuten page: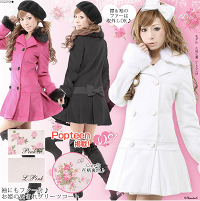 My personal obsession is with coats! I love love love coats! Right now, I want to buy this one >> in white:
... I already have this one << in black! But the buttons are loose! ;_; It's actually not a big deal, I guess I can just re-sew them!
Anyway, if you haven't taken a look at Yumetenbo, then do so now! I should warn you that the shipping from Japan adds up... srsly, in some cases it's almost the cost of the item itself. But you can get a unique item that may not even exist in your home country! http://item.rakuten.co.jp/dreamv